GRIMM S. 4 FILMING PORTLAND ROCKY BUTTE CASTLE TAKE OUT
When I arrived at Rocky Butte this morning I was disappointed that it looked like they were done filming here. Sure enough there was no crew parking signs and they had cleared out. Amazing to me how quickly they can take it all away. The guards there told me they had filmed till about 3:00 am and then hauled it all away by 6:00 am. They had already taken out the castle gate and were now working on the greens and trees below it. The castle gate had taken most of this week to build, as they started on Monday. It was made of styrofoam type material and was made to look like the rest of the rock walls. They built a platform in front of it and that is where most of the filming was done. When I visited yesterday they would not let me climb the stairs but today it was free. It was interesting to see what all they had put into the scene.
They used these white dead trees up near the top of the stairs that really gave it a cool feeling. I took lots of photos near where the gate was as they think they did most filming there. All the trees and large shrubs were being taken out by the greens people from GRIMM. They have  warehouse where all is the trees and shrubs are kept. They work on several scenes where they just add flowers or small greenery too. I was fascinated with the tree trunk standing at the bottom of the hill. It was fun to see them pull all the bark off of a cardboard tube that they used to cover up a no parking sign and pole. Afterward they had to put the sign back together and leave everything cleaned up. Now I have to wait to see what this scene will look like on GRIMM.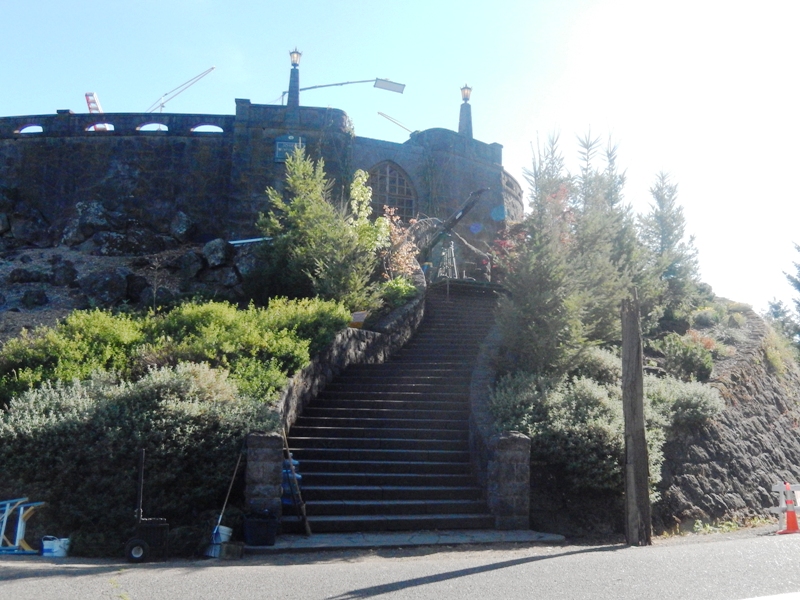 Here is the after how I found it today: